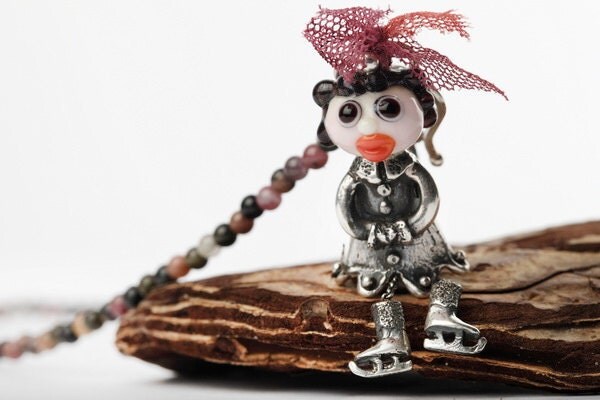 Ice skater lady
necklace is one of mylovely design...she has 925 silver body...her skates are connected to the body part with silver chain so they are movable....I have lampworked her face at my studio in Istanbul....she is really lovely lady which makes you smile when you wear her:-)her hair is in dark purple/black Color...eyes are in black..and ..the cord is fine mix agate semi precious beads...
the size of her body: 4.5 cm = 1.8 in
the lenght of necklace: 41 cm = 16.1 in
Her face is carefully hand made by me at my studio in Istanbul and examined for imperfections before being used. I use finest quality Effetre Glass Rods...and she is one-of-a-kind piece...
"This striking necklace will catch everyone's eye and add something special to your outfit."
Thank you for shopping with me.
With Love....
keep smiling:-)